Wild Turkey Hunting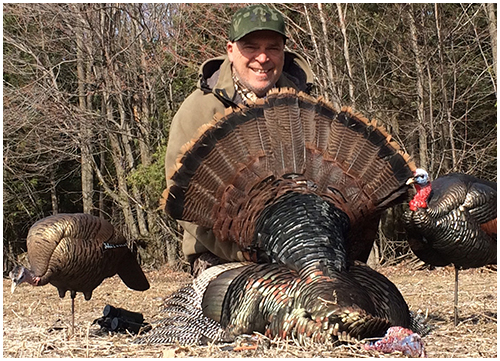 Pourvoirie Destination le Mirage Inc., the first outfitter to offer this hunting product since the relocation of the species to Center-du-Québec more than 5 years ago, offers you a guided wild turkey hunting adventure with average harvest success rates exceeding 86% per hunter. The operations are distributed on its territories zones 7 and 6, areas with the largest herd of wild turkeys in Quebec according to the data collected during the last inventories made in 2016. This morning hunt for groups of 1 or 2 hunters takes place with the assistance of a guide including all the necessary equipment, in agricultural, semi-agricultural and forest areas.

Two choices are available to you for your adventure "wild turkey " at destination Mirage inc. :

A) The "TOTAL" . That includes pre-hunting prospecting with your guide. You must be present the day before your PM hunting morning and available for departure at 15:30. Your guide will pick you up at the rendezvous point set to visit and find the best hunting site for the next morning (duration from 16:00 to dusk). It is no extra charge but the schedule must be respected without fault so, plan your trips accordingly or, take advantage of one of our hosting packages whose rates will be distributed to you upon request.

OR

B) Arrival at the rendezvous point in the morning of the hunt at approximately 4:00 am (time to be determined according to the hunting area and the sunrise), you follow your guide to the hunting territory chosen the day before by this last. Installation of the cache or brief preparation of the lookout, installation of callers and advice. The hunt ends at maximum around 11:30 but it is the guide who is the best judge of the chances of harvest and actions to take to maximize your chances (travel, etc ...)

In addition, it is now possible to harvest a second turkey in zones 7 and 6 where we operate.

N.B. : THE POURVOIRIE DOES NOT AUTHORIZE THE TAKING OF 2 TURKEYS BY THE SAME HUNTER AT THE SAME EXIT AND WITH THE PURPOSE TO OFFER A HIGH-LEVEL AND CONSTANT HUNTING QUALITY.

Your expectations should be at this:
1 turkey harvested per group per outing. So, in principle, it is highly possible to think of harvesting 1 turkey with 1 group in a morning hunt. Game remains game and its behavior is governed by the weather conditions so there is nothing "guaranteed" but rest assured that the action will be at the rendezvous.

Possibility of package in multi-day plan (2 consecutive hunting days) with accommodation options

Places are limited!