Whitetail deer Hunting
Destination Le Mirage Inc. Outfitter offers the opportunity to hunt deer on private land located in areas 7 , 6 and 4.. Due to exclusive use agreements with landowners, the outfitter has several private territories with an exclusive hunting rights, totaling nearly 6000 acres, available for American & European plans, or homing mode (land rental only) which are used in rotation mode to provide constant quality hunting. Each territory, with a minimum area of 100 acres, is offered in customized package according to the plan chosen and with or without accommodation.
Here is a summary of some new rules applicable from the 2020 season on our whitetail hunting products, under the modifications made by the filing of the NEW WHITETAIL DEER MANAGEMENT PLAN 2020-2027 :
FIREARMS season in areas 7 (including rifle '' NEW '', shotgun and muzzleloader, starting on November 7TH and ending on November 22nd in 2020;
BOW / CROSSBOW season starting on October 3rd until October 16th in 2020, no gender or rack size restrictions to respect…. All open.;
Possible harvest of 2 deer but in 2 different areas; ie: you can harvest a deer in zone 7 and continue your hunt in one of our other territories located in another zone such as zone 6 or zone 4; (subject to an upcharges).
The number of special permits (antlerless deer) available for the UNIVERSAL Sépaq draw for resident only will remain roughly the same per area and therefore the chances of obtaining these special licence will be as good as in the last season.
Full support for registrations and management of SÉPAQ draws for customers if requested;
Availability '' all the time '' of a blood dog driver assigned exclusively to the outfitter ( subject to additional charges );
The regular packages, for a period of 5 full days of hunting, take place on designated & exclusive hunting territory and especially frequented by game. Upon arrival, each group of hunters will be given a map of the territory and will be supported by a territory supervisor or assigned guide (depending on the chosen package) that will be eager to answer questions from the group and proceed to an immediate visit of their allocated hunting territory. PERSONALIZED PACKAGES (less than 5 days and/or for 1 to 3 hunters) are also available. Rates will be provided upon request.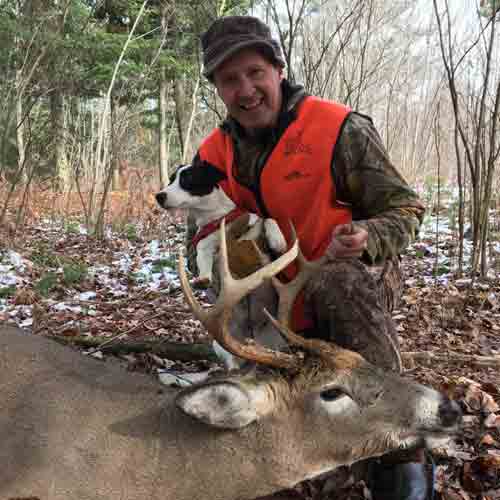 The Destination le Mirage secret for a historic average harvest success rate of more than 80% per hunter;
The tranquility of the place and respect for their environment are pre-requisites for successful hunting. For those reasons, all territories are defined and identified by visual signs in addition to the constant surveillance managed by the outfitter. GPS configuration and mapping service is offered under certain fees.
Hunting methods used are connected to different periods and restrictions relating to the selected area. Therefore, bow, crossbow, rifle, shotgun and muzzleloader arms may be used. Each offered territory will be set according to the expectations of the group and by hunting methods used. Mobile equipment provided such as approved single or double treestand with harness, tent, fixed blind on scafo, ground blind and other hides will already be deployed around baited sites and daily maintained by the outfitter. Support for game's conservation will be made by outfitter's staff during the complete stay.
'' SELF-GUIDED '' plan ( woodland rental mode ):
The outfitter also offers the opportunity to enjoy an exclusive territory in homing mode. Thus, on a rental basis at a rate per acre, a group of hunters may obtain right of territorial use for a period of seven days (full week) or for the entire season. This type of package only includes the monitoring service and delineation made by the outfitter and therefore requires the group to provide the specific equipment.
Why not combine a whitetail deer and waterfowld hunting package?
Destination le Mirage outfitter invite you to combine, in the same package, whitetail deer & a Great white snow goose hunting experience. In guided format, this experience can be included in a medium-stay package ( 3 day's and more ). It will be our great pleasure to submit an adapted and personalized proposal to you.
Descriptions of available packages: Whitetail Deer
1) American Plan including: (house / inns accommodation only)
Assistance in preparation of formalities (drawing for special permits for antlerless deer, etc.)
Welcome at group's arrival and immediate attention.
Service of a territory manager assigned to the group during the whole stay.
Accomodation in certified 3 and 4**** lodge with meals, sheet and cover, wifi, all services…
Continious daily baiting on all designed hunting sites for all the stay.
Exclusive private territories and equipments (watchtower, tent cover, treestand and fixed blind, etc.)
Game's management, ( retrieve assistance, evisceration & storage )
2) European Plan, with or without accommodation, including: (cottageLodge, cottage or hotel / motel pla)
Assistance in preparation of formalities (drawing for special permits for antlerless deer, etc.).
Welcoming at the arrival and immediate attention.
Territory supervisor services.
Accommodation in certified 3*** lodge, cottage or hotel / motel
Continious daily baiting on all designed hunting sites for all the stay
Exclusive private territories and equipments (watchtower, tent cover, treestand and fixed blind, etc.)
Game's management, ( retrieve assistance, evisceration & storage ).
3) Homing mode (self-guided tour) - land lease only including:
An exclusive designated territory (minimum of 100 acres)
Access to land two weeks before the stay for its preparation (7 days plan) and a full week including two weekends to practice the activity
OR
Access at all times to the territory under the conditions listed in the agreement (seasonal plan)
Some details:
Some special permits for antlerless deer hunting being available after the draws made in May of each season ( exclusively for a QUEBEC RESIDENT HUNTER ) by SÉPAQ. The outfitter offers to our costumer for managing the subscription in order to effectively participate in the management of livestock on its territory . More, by possibly obtaining some of these allowed by our landowners, the outfitter reserves the right to transfer the said license to its customers according to their availability and subject to certain administrative costs.
To maintain a certain level of adult male deer trophies, Destination Le Mirage Inc. Outfitter apply the QDM management principles on a few areas of 150 acres or more. Thus, any holder of a antlerless deer slaughter permit will be strongly encouraged to harvest only mature males with a rack of a minimum of 6 pins or more FOR HIS FIRST DEER and in the designated area. In addition, the territories operated in zone 6 North are, since the season 2017, subject to the conditions of levy stipulated in the program RTLB. NEW… The outfitter offers its own service of a '' blood dog retriever '' with certified driver for the research of the injured game and that, for a certain fee and when the request is made. In addition, a weapon rental service is offered according to customer needs.
Come live an unforgettable hunting experience in a very accessible area while finding the much sought scenery that provides a hunting trip in good company!