Atlantic salmon fishing
Bonaventure River (mid-June to mid-September)
Known for its crystal clear water, this river is equaled by his reputation. The annual salmons (2500 to 3500) getting in sets this river among the most productive in Quebec. Destination's of choice for American fishermen, the river is very accessible and offers, in addition to excellent fishing potential, landscapes of rare beauty.
Fishing is practiced by canoe or wading, depending on river conditions, and spread over several sectors. The guide is dealing with the registration, permit and different drawing so that fishermen can focus solely on fishing and fully enjoy their stay.
Accommodation in cottage or inns at the Falls Gully Outfitter facilities, is now offered since its recent acquisition by a group of developers in which Mr. Martin Poisson, your host of Destination Le Mirage Inc. Outfitter is part of. Therefore, 3 cottages which can receive 2 to 8 guests, and a beautiful 4 **** lodge accommodating groups of 2 to 12 guests are available in an enchanting site holding exclusive rights, located 30kms north of the Bonaventure's village. "American" (all-inclusive) or "European" (without meals) plans are available. Access to brook trout fishing lake can also be part of 'combo' package' for certain fees. Visit www.fallsgully.com website for more information's.


The package includes:
Daily guide services or package of 2 full days of fishing
Bureaucracy (provincial permits, access rights, drawing registration, etc..
Accommodation in a cottage or inns (3 nights American Plan) or week in cottage (European Plan)
All meals (American Plan).
Guide services, ratio 1 guide for 2 anglers
Boat (24' canoe) with inflatable safety vests
Transport on the river
Fishes management & storage
Spare fishing equipment
Also available (for a fee):
Fishing equipment (rod, reel and flies)
Sale of flies
Introduction to the basic techniques of fly fishing (hourly rate)
Possibility to add additional fishing days.
Transport to destination by train (see note **)
Possibility to rent cottage on a weekly basis (7 full days)
Brook trout fishing in our lakes. Daily and / or combined packages available.
** Destination Le Mirage Inc. Outfitter can handle all necessary arrangements for your transport to Bonaventure through Via Rail from Montreal, Drummondville or Quebec. Travelling for approximately 8 to 13 hours, the train journey takes place day or night in "comfort" class or "sleeper". Upon arrival, our guide will meet you on site and provide transportation to your accommodation. Return to your starting point will be made late in the evening of the last fishing day or the next day, schedule subject to correspondence and rail services.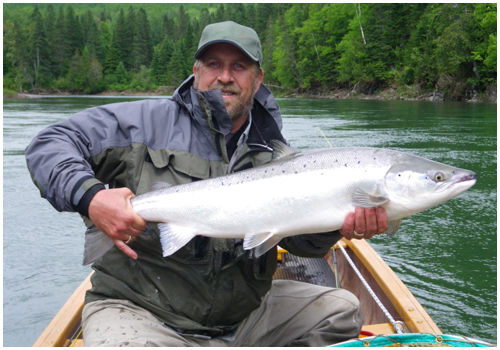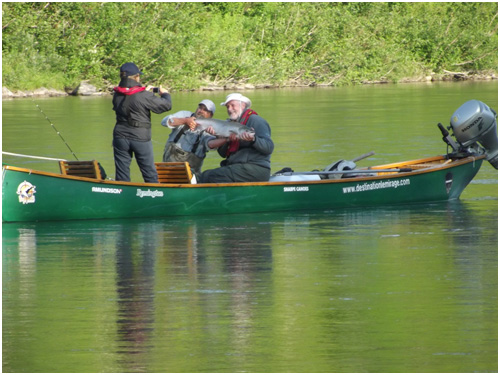 Activities performed in Gaspésia (zone 1) are operated under "Falls Gully Outfitter" licenses. Destination Le Mirage Inc. Outfitter and Falls Gully Outfitter are associated operators.
THE ATLANTIC SALMON FINALLY AVAILABLE TO ALL!
COME LIVE THE "DESTINATION LE MIRAGE" EXPERIENCE